2022 Conference
The 2022 conference in Liverpool welcomed 80 registered delegates from 35 organisations.
Note: Surpass Assessment is now the company name for BTL and BTL Surpass.
Watch presentations
The future direction of the assessment industry, and the importance of incremental progress while learning from others were key themes at the 2022 Conference.
Key themes at the 2022 Conference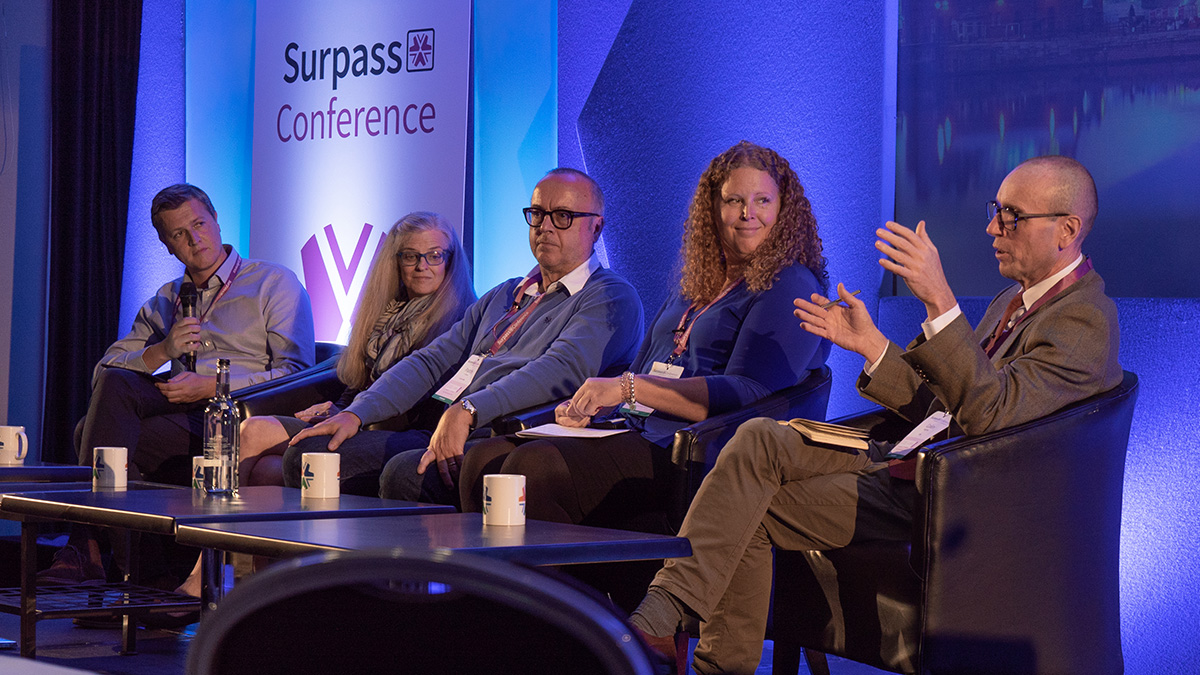 Celebrating 15 years of the Surpass Community
Sonya Whitworth, Managing Director, and Andy McAnulla, President, reflect on some of the challenges we have overcome in the last 15 years, and milestones we have reached in that time together with the Surpass Community.
Speakers:
Andy McAnulla
President, Surpass Assessment (US)
Sonya Whitworth
Managing Director, Surpass Assessment (UK)
Surpass Community-led innovations
Learn about a range of recent features from the Surpass Community members who led them, and the benefits that came from collaborating together throughout the design process.
Speakers:
Philip Cowen
Business Change Manager, OCR
Martin Mewis
e-Submission Delivery Manager, WJEC
Janet Legge
Director of Awarding Body, ACT
Gareth Hopkins
Assessment Solutions Specialist, Surpass Assessment
Assessment for Learning & Candidate Feedback
In this session, discover how Surpass Community members AlphaPlus, and SQA use Surpass to deliver assessments to candidates that focus on continuous learning and feedback.
Speakers:
Ben Rockcliffe
Deputy Director for Assessment, AlphaPlus
Graeme Clark
Head of Digital Assessment Services, SQA
Panel: The direction of the assessment industry
Celebrating the collaboration that is the heart of the Surpass Community, hear from respected industry leaders across a range of sectors (GQs, Vocational, Professional and Language Testing) on the current challenges they face.
Discover how their respective sectors are expected to evolve, primarily from an onscreen testing perspective, over the next five years and put your questions to the panel.
Speakers:
Jim Crawford
Chief Commercial Officer and Company Director, Surpass Assessment
Patrick Craven
Director of Policy, Strategic Partnerships and Stakeholder Engagement, City & Guilds
Lynne Frederickson
Project Manager, MLA
Tanya Hollister
Associate Director of Examinations, Chartered Professional Accountants Canada (CPA Canada)
Colin Hughes
CEO, AQA
Services for the Surpass Community
This session is an opportunity to hear from Surpass Community members. Discover how they use Surpass supporting services to assist in the creation and delivery of their assessments.
Including information on online proctoring, Test Centre Network, test development and test conversion/publishing, learn how Surpass services can assist you with item authoring, scheduling, and delivery.
Also in this session, Paul Edelblut from Vantage AI, will be demonstrating live just how easy and effective it can be to start automatically marking long-form item responses with their groundbreaking integrated technology.
Speakers:
Ashleigh Whittle
Head of Supporting Services, Surpass Assessment
Miriam Broome
Online Invigilation Manager, Surpass Assessment
Lana Pitcher
Senior Examination Officer, The Bar Standards Board
Paul Edelblut
Vantage AI
Delivering accessible tests in Surpass
In this session, hear from Digital Accessibility Centre (DAC) on the importance of accessibility, including legislation you need to be aware of, how to organise an audit and what user groups to take into consideration. You'll also hear from Surpass's dedicated accessibility development team as they provide an update on our recent accessibility improvements, talk about good practice guidance and share information about future plans in this area.
This is followed up with a hands-on demonstration of the JAWS screen reader to raise awareness of the barriers that test takers can face and explore the many ways that assistive technology and good design can help to overcome them.
Speakers:
Gavin Evans
Co-Founder and Director of Operations, the Digital Accessibility Centre (DAC)
Mike Taylor
Senior Accessibility Analyst, the Digital Accessibility Centre (DAC)
Collaborate as a team while working remotely in Surpass
Learn how Surpass can manage the creation of your content remotely, through the use of Tasks functionality.
Speakers:
Amanda Dainis
CEO and Lead Psychometrician, Dainis & Company, Inc.
Ashleigh Whittle
Head of Supporting Services, Surpass Assessment
Supporting content developers in Surpass
In this session, learn more about using Tasks in Surpass to track item or exam development and how this can help you to streamline processes.
Speakers:
Meranda Lokey
COO of Dainis and Company, Inc.
Get conference updates
Join our mailing list to get updates on Surpass products, services, and future conferences.